So I've started this post like maybe 3 times. But for some reason God just doesn't let me finish it. Finally I can finish it now. Love is such a big topic. There are so many different kinds of love. The one I'm talking about is more the love a man and woman have for each other. The love Isaiah and I have for each other. Ok yeah I agree, that sounds cheesy.
Love is that magical thing that everyone wants. No matter the person, they want someone that loves them above everyone else. They want that thing that makes people commit for a lifetime. That feeling that the world is right and your heart overflows with love for another person.
Wow, I just start talking about love and I sound cheese. But what is love? How do you know when you've found it? Have you found when you are "facebook official"? Have you said it when you get warm fuzzies inside for a person? Can you fall in and out love?
So many questions about love. Its so complicated. I think for the definition of love I will look to God, the Author of love, and Who has so much love for us that Jesus died. (in the King James Version, love is called charity)
"
Charity suffereth long, and is kind; charity envieth not; charity vaunteth not itself, is not puffed up, d
oth not behave itself unseemly, seeketh not her own, is not easily provoked, thinketh no evil; r
ejoiceth not in iniquity, but rejoiceth in the truth; b
eareth all things, believeth all things, hopeth all things, endureth all things" 1 Corinthians 13: 4-7
God defines love in such a mind boggling way. To love you have to seek their interest. You can't be puffed up. You are kind. You don't get jealous or envy that person. Its such a selfless act. Its about putting the other person first and never thinking about yourself. All you want is to see them succeed.
Now, I don't know about you, but I don't do selfless very well. I like to think about myself. I like when I'm the spotlight and I'm the best. But I have to say that I was amazed when I wanted Isaiah to be first. I wanted him to succeed over me. I wanted his interest first. I love him and want him to do best.
I don't always feel that way. I have to say, I am still very selfish. I look out for me, over Isaiah. My wonderful husband is so loving and selfless that he lets me get away with it way too often. He puts me first and wants me to succeed. He is amazing. I don't know how he could be so selfless.
Its like Jesus said, "
Greater
love
hath
no
man
than
this, that a
man
lay down his life for his friends." John 15:13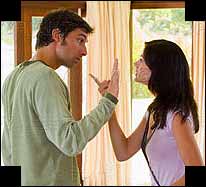 One of the biggest questions I've had from single people is, "how did you know when he was the one?" or "how did you know you were in love?" I think it was when I realized that I wanted to serve him for the rest of my life. I wanted to give my life serving him and loving him. I knew I was in love when I wanted to put him first.
That sounds all sweet and rosy, but another thing I say is you don't fully know you are in love until you have had your first BIG fight. I'm not talking about a little tiff, I'm talking a huge knock out fight. Its when you realize that you are both selfish people who have differences and you work through them that you know its love. Its when you don't just want to give up. You want to work through it and make things better.
I think the world's version of love is one of fluffy feelings and romance. But look at the rate of divorce. Look at the so called hollywood marriages. They don't last. But if you are truly loving someone you want to work things out. You want to make it work. You realize that God made marriage. He loves marriage. He hates divorce. You want to get to make it work.
I know this too well. I come from divorced parents. Its miserable. People are not supposed to be like this. Marriages are not supposed to end like my parents did. God did not design marriages to end.
So I guess that makes you wonder, can you really fall out of love? I would say no. Love is not a feeling. Love is an action.The feelings will come and go. I can say that when I'm fighting with Isaiah (yes it happens), I don't have warm fluffy feelings. But I still love him. We make it a point when we are fighting to say, "I still love you. That will never change." We make sure the other knows the love isn't gone, we are just mad at each other.
When Isaiah and I are going through a rough time I listen to the song Love is Not a Fight. Its so true. Its about how love is not something that comes and goes. Its about fighting for it. I am putting it here. I hope its helps someone like it helps
Having someone that loves you is wonderful. Its so much better than going it alone. You have someone to depend on. You have someone that helps you through so much. You know that at the end of a rough day you can go home to that person's arms and love and they will help you through it. Its the peace that when the world falls apart you know that person will be there for you. I could go on and on, but its we would be here all day. Love is tough, but so worth it.
I would sum up that love is amazing. It is the warm romance, and fluffy feelings, but more than that its serving the other person. Its wanting to put them first. Its making the decision to put yourself last and them first. Its not natural. But I know that love is worth it